Orange County Bank Robbery Pursuit
Suspect Killed In Pursuit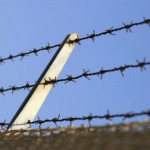 Two men suspected of robbing a bank in Anaheim Hills were involved in a serious car crash following a pursuit by the Anaheim Police Department. One of the suspects was killed, and the other was critically injured. The crash happened just before two in the afternoon. An Orange County resident saw the robbery, followed the suspects in their car, and then alerted the authorities.
The police officers who responded to the call spotted the vehicle, after which the chase started. The suspects were driving a Honda Civic. Ten minutes into the pursuit, the Honda crashed on East La Palma Avenue. The driver of the vehicle ran multiple red lights, and eventually hit speeds above 75 mph. The driver was pronounced dead on scene, and the second suspect was in serious condition.
According to police reports, the suspects went into the bank, and then gave one of the tellers a note which stated one of them was carrying a gun. they also robbed one of the bank's customers who was waiting in line. The victim had a large amount of money at the time. The Anaheim Police do not yet know if there were any other banks that had been robbed by the suspects. The men have not yet been identified. Over four thousand dollars was stolen during the robbery.
Traffic was snarled for hours after the crash as police continued their investigation. East La Palma Avenue was closed until after five in the evening.