Welcome To Irvine Bail Bonds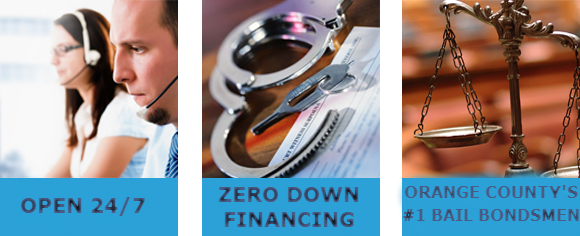 Our Irvine Bail Bonds Services
Our bail bond company serves Irvine and all of Orange County. We provide professional advice and assistance on posting bail to assist anyone in need. The process of posting bail can be confusing and stressful and our professional bail bond services can make this difficult time easier.
Our Services Include:
Accurate and Free Bail Bond Information
You can call us 24 hours a day, 7 days a week to obtain accurate and free bail bond information. When you call, you will be connected directly to a licensed bail bondsman who can answer all your bail bond questions quickly and accurately. We have extensive knowledge about bail bond policies and procedures for Irvine and the entire Orange County area.
Discreet and Confidential Service
We understand that having a friend or loved one arrested can often be an embarrassing situation. Fast Irvine Bail Bonds takes your privacy seriously. Our bail bond services are provided with the upmost discretion and you can be assured that your privacy will be protected.
Immediate Response and Fast Bond Approval
As licensed Irvine Bail Bonds agents, we recognize that prompt service is a primary consideration when a friend or loved one is in jail. We commit to our customers that we will work without delay to obtain prompt release from jail for their friends or family. Because we have developed expertise in the bail bond policies and procedures for Irvine and Orange County, we can work quickly and efficiently with the jails in these locations.
Bail Bonds by Fax or E-mail
Fast Irvine Bail Bonds makes the bail bond process fast and simple by providing the option of handling the bail bond application paperwork by fax or e-mail . Customers can receive and complete the necessary paperwork in the convenience of their own home or office.
Flexible payment options including payment by credit card
We make paying for our bail bonds easy with Visa, MasterCard, Discover and American Express. You may also make payment with cash. If you qualify, we have creative financing options available.
We Will Come to Your Home, Office or Jail
If necessary, our bail bondsman will meet you at your home, office or jail at no extra charge. We can be at most locations in Irvine and all of Orange County within 30 to 60 minutes.
Notary Public services are also available 24 hours a day
We have Notary Public services available 24 hours a day, if necessary to complete the bail application process.
Irvine and Orange County Bail Bonds
At Fast Irvine Bail Bonds, we do everything possible to help you get your relative, loved one, or friend released from any Orange County jail immediately. We take great pride in our extraordinary, personal service. That personal service starts as soon as we answer the phone. We work directly with you through the entire process, even beyond the time when the bail is posted.
We stand with our clients all the way through to the completion of the case! When our expertly trained bail bondsmen handle your bail case, you can be assured that you will be treated with the respect and courtesy that you deserve. We facilitate an efficient and trouble-free release from any jail in Los Angeles or Orange County.
Most of our customers have never needed the services of a bail bondsman and don't even know what questions to ask. We are prepared to clearly explain each step in the bail bond process and answer all of your questions. We offer fast, flexible and reliable service and we can handle most of the bail bond process by fax or e-mail. We will even meet you at your home, office or jail at no additional charge. Our highly competent, experienced bail bondsmen are available 24 hours a day, 7 days a week, every day of the year.
We offer the best bail bond rates available in Irvine and all cities in Orange County. We also have flexible payment options available, including payment by credit card.
We specialize in providing bail bond services for Irvine and Orange County.
If you need Irvine or Orange County Bail Bonds, we can help. We have extensive knowledge of the bail bond policies and procedures for the various county and city jails throughout Orange County, so you can be confident your bail bond will be handled promptly and professionally. We serve all cities in both Los Angeles County and Orange County.
Need Irvine Bail Bonds advice?
Most people simply are not familiar with the bail bond process or getting someone released from jail. When you are in need of bail bond information and advice for yourself, a friend or a family member, you can call us. We are prepared to answer all of your questions simply and honestly. When you call Fast Irvine Bail Bonds at 714-485-0999, you will be directly connected with a bail agent who can answer your questions and guide you through the bail process.
We are experts on the bail bond policies and procedures for Los Angeles County and Orange County. If you are unsure at what jail they are being held or how you can go about obtaining their release, we can assist you with providing the information you need. We will also clearly explain the bail bond process including the obligations and responsibilities of bailing someone out of jail and signing a bail bond contract. We know that this can be a confusing and frustrating time, and we are here to help you.
Please see our Frequently Asked Questions section for answers to common bail bond questions.
When your friend or family member has been arrested and you need to have bail posted, you need straightforward and accurate advice from a bail bondsman with integrity. You need to call Fast Irvine Bail Bonds.
If you need more information about our services or need to speak with a professional bail agent about bail please contact us at 714-485-0999.
How Bail Works
An Irvine bail bond company is usually contacted by the defendant's friend, relative, attorney or the defendant himself. Bail services are not able to start, however, until the arrest and booking processes are complete. Once they are completed, the bail bond company will start by collecting basic information about the criminal defendant's situation. To assess the risk involved in the bail bond, most bondsmen ask questions such as where is the detainee being held, how long have they been there, what are the charges, where is their place of work, etc. If and only if there are no government holds on the defendant then the bail bond can be written. If the Bail agent feels there is little to no risk of the detainee fleeing, payment arrangements can be made so that the 10% premium doesn't always have to be paid upfront.
The friend or relative taking responsibility for the bail bond will need to sign a few documents including the following:
a Bail Bond Application
a Bail Indemnity Agreement
a receipt
Once the bail bond paperwork is finalized, a licensed bail bond agent will "post" the bail bond at whatever jail in Orange County where the detainee is being held. For help locating an inmate, please click on the "Jail Locations" tab at the top. From the time a customer first calls into a bail bond company for bail services to the release of the defendant there is a wait time anywhere between about 20 minutes to two hours so the process of acquiring a bail bond is usually fairly quick. The quicker the better is what the bailees are most likely hoping for so bail bond companies do try their best to get all the paperwork processed and finalized very quickly. Our agents are very aggressive when it comes to getting your loved one released.
Possibly its that call at 2 in the morning that you really hope will certainly never ever occur with a family member or it is really that phone call you expected all along, "Please aid I've been apprehended and I'm behind bars" telephone call from your buddy, a member of the family or possibly also your own partner. Despite the scenarios of the Irvine arrest or possibly the psychological sensations that go along with a person you like and love ending up arrested by the Irvine Police Department and tossed in the Irvine jail, how do you handle it? Of all the false myths that "just one phone telephone call" is permitted when you are busted in Orange County and in the protection of the Orange County sheriff's Department is simply not real. There truly is no real constitutional right assuring a right to the phone call once someone's arrested. In the county of Orange you are enabled a telephone call if you are not drunk or high. The function of the telephone call is so that the detainee can let somebody know they're in the wardship of the Irvine Police which need help to either acquire a lawyer, contact an Irvine Bail Bonds company, or both. A phone call from the Irvine Jail could differ from a phone stuck to a wall that has no handset with just a speaker to a policeman that gives you your mobile phone and permits you
make the call to hopefully hunt down somebody that can help. Police usually consider this as a courtesy they offer their "visitor" that accompanies the free of charge bed and board for the evening! So if this happens, it's time to get in touch with a company that deals with Bail Bonds in Irvine.
One of referrals that you will certainly learn through practically any type of legal representative is that once you get busted whatever you say can be used in court against you so just answer questions regarding your bust in the existence of your lawyer. Put simply, if a person gives you a ring for support from the Irvine Jail, do not have any type of substantial discussion about the arrest and exactly what took place and why they are in the jail in Irvine; you may never truly know who could be listening closely and even tape-recording your talk. The primary objective of the call is to discover exactly what jail they are being held in and exactly what they have to leave so that they can get a hold of a company that deals with Bail Bonds in Irvine and work with a lawyer to effectively deal with the charges that have been filed against them. Accumulate that info and locate an Irvine Bail Bonds representative that can help you with your issue. If its in the middle of the evening, do not worry about it. Most bail companies in Irvine are ready to help at all times. Do a basic search in your preferred search engine for bond agents in your Orange County town or close to the jail in Orange County where the individual is being held and inquire regarding the services they offer, cost and exactly how they may help. Call about and review a couple of businesses to see which one you think is your top selection in terms of cost and solution.
People have a constitutional right to practical bond. An Orange County Bail Bonds agent is a person that is really working for an insurance firm and will certainly do whatever possible to bail you out. An individual billed and apprehended can either provide the total bail or with an Irvine Bail Bonds company who often charge a 10% premium. Providing bail is the offenders or detainee's guarantee to show up in a law court to deal with fees, make a petition and
show up in any way court dates dictated by the Orange County Judge.
by Sarah Torres